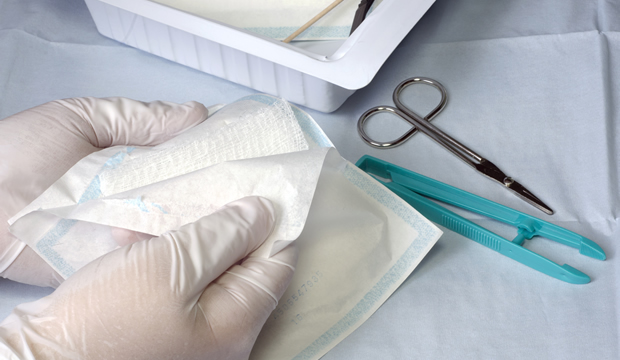 Chronic, non-healing wounds, those that haven't shown signs of improvement in several weeks or are not responding to typical treatments, need extra help to heal. Difficult wounds of this type are often caused by injury, disease or poor blood supply. Watsonville Community Hospital provides specialized treatment for these types of wounds.
The Monterey Bay Wound Treatment Center features a team of specially trained physicians and registered nurses who provide wound care services.
We treat:
Diabetic Ulcers
Neuropathic Ulcers
Pressure Ulcers
Ischemic Ulcers
Venous Insufficiency
Traumatic Wounds
Surgical Wounds
Vasculitis
Peristomal Skin Irritation
Chronic Non-Healing Wounds
After a physician refers you to our center, you'll meet with a multi-specialty team of physicians and nurses who will conduct thorough examinations and review your medical history. They may order special tests to get more information about blood flow, tissue oxygenation and infections and will continue to consult your regular doctor and keep him or her abreast of your progress.
Once your test results are received and analyzed, your treatment team will develop a plan for your care. It may involve regular visits to the center and you will also be instructed on home-care, such as wound dressings and ways to protect yourself from further damage.
Finally, your participation is vital. It's important that you follow all directions, watch your progress closely and keep your appointments. Our staff is available to answer any questions you may have.
Helpful Resources:
Hyperbaric Oxygen Therapy
Hyperbaric oxygen therapy (HBOT) is used for chronic to acute wounds (generally resulting from surgery, diabetes, radiation and . HBOT surrounds patients with 100% oxygen in a comfortable, pressurized chamber, enhancing blood flow and oxygen delivery to vital organs. HBOT promotes healing through increasing blood supply, reducing bacteria and providing nutrients to the wounded area.
Benefits of HBOT:
Enhanced white blood cell action
Improved blood flow to areas with arterial blockage
Increased oxygen concentration in all body tissues
Increased production of the body's natural antioxidants
Dilation of the arteries and blood vessels, and improved blood flow to affected organs
Stimulated growth of new blood vessels to locations with reduced circulation
Wounds that may benefit from HBOT include:
Bone infections
Burns
Complicated surgical wounds
Diabetic wounds
Radiation injury to bone or soft tissue
Wounds resulting from local trauma
For more information, please call:
(831) 763-6022